Crawl Space Insulation Services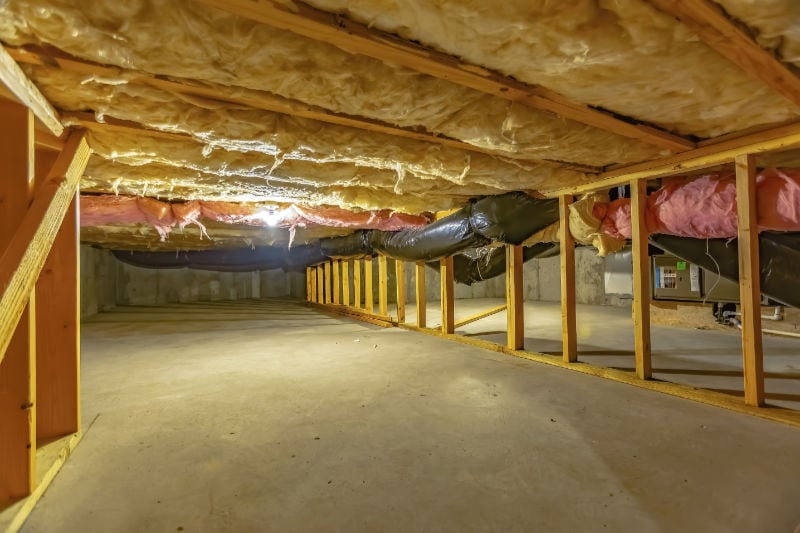 Many of our older homes here in the Pacific Northwest have crawl spaces that need quality insulation and ventilation to keep out the moisture.
A poorly insulated crawl space creates problems for the rest of your home. It makes it hard to keep the upper floors warm in the winter. It can also contribute to high humidity levels in the summer.
Just like we recommend insulating your attic space, our team at HomeRx and Performance Insulation Energy Services encourages Portland and Redmond homeowners to insulate and air seal their crawl space. The two go hand-in-hand toward creating a welcoming, energy-efficient environment for you and your loved ones.
HomeRx and Performance Insulation Energy Services is a trusted name throughout Portland, Oregon for providing quality residential insulation services. We offer crawl space to upgrade the comfort in your existing home. Or we can work with you on a new construction project.
Where Should I Insulate My Home?
The four critical areas to insulate a home are:
Exterior walls—This can help maintain a consistent temperature throughout your home.
Floors—Adds comfort and soundproofing.
Attics—Provides year-round comfort and improved indoor air quality (IAQ).
Crawl spaces—Contributes to a healthier home environment.
ENERGY STAR® estimates the typical U.S. household spends about $2,000 a year on energy bills. Roughly half that amount goes toward heating and cooling. Air sealing, insulating, and weatherstripping significantly reduce those costs.
Our professional energy audit includes infrared thermal imagining to pinpoint air leaks and poor insulation in your Portland home. We'll recommend which improvements offer the greatest impact on your energy use and indoor air quality. Schedule a free consultation today and start enjoying more comfort.
Insulating Your Crawl Space
A well-insulated crawl space prevents moisture, radon, and other irritants from entering your home. You'll first want to prep the crawl space by sealing air leaks. That includes holes around drain lines, plenums for ductwork, and around electrical wiring and plumbing.
Our professionals at HomeRx and Performance Insulation Energy Services can help you choose the right type of insulation and the best R-value for your location. Remember, the higher the R-value, the greater the insulating power.
What Kind of Crawl Space Insulation Is Best?
Spray foam is always a preferred option—but also your most expensive choice. Cellulose and fiberglass also make great options. Be sure to insulate all the ductwork in the crawl space.
Are Crawl Space Vents Necessary?
Relying on nature to control your moisture does not always work out well. If the outside air is particularly humid, moisture will flow into your crawl space—not the other way around. Many builders recommend closing crawl space vents after the crawl space dries out after construction.
Advantages of Crawl Space Insulation
It starts with comfort. Insulating the crawl space and other areas of your home seals in the warm air during the winter and keeps out the muggy weather in the summer!
Do you live in an older home? Chances are, it is under-insulated. A home energy audit will help determine which parts of your Portland home could use added protection.
Some other advantages to air sealing and insulating your crawl space include:
Reduce your monthly utility bills
Maintain a more comfortable home
Improve your indoor air quality
Keep a pest-free crawl space
Prevent your furnace and air conditioner from overworking
Most of all, a well-insulated crawl space creates the foundation for a healthy home. Let's improve your crawl space today.
Call Your Crawl Space Insulation Experts Today
HomeRx and Performance Insulation Energy Services is your go-to leader for providing premier residential insulation services throughout Portland, OR, and the surrounding areas. Call us today at 503-479-5290 or request service online to learn more about our products and services.